Terraços do Monte Apartments - Luxury in Lisbon's Historic Center
Let the city in
Terraços do Monte, the residential building located at the top end of Rua Damasceno Monteiro, immediately below the Nossa Senhora do Monte belvedere from which unfolds the most magnificent views of the city. This new luxury development in Lisbon has everything it needs to become an urban landmark.
On a hilltop in the heart of Lisbon's historic centre, this property offers you astounding views over Lisbon's old city center, the emblematic São Jorge Castle, houses of the Baixa district, the vibrant Chiado and glistening waters of the Tejo River.
Can you imagine living with access to a luxury terrace and this view, in the best area to live in Lisbon? It is possible, at Terraços do Monte.
Terraços do Monte has five floors, (just three above the street level), with two, three and five bedroom flats, each of them offering fairly generous areas.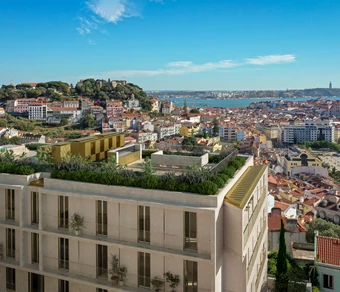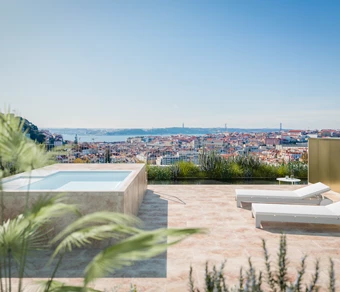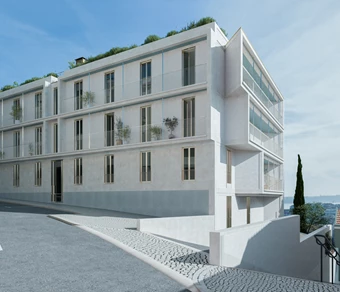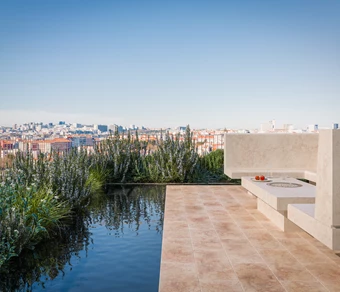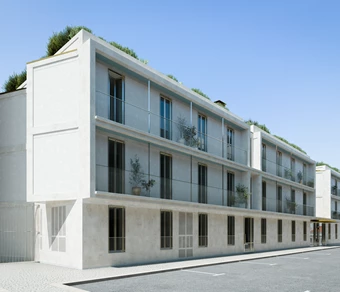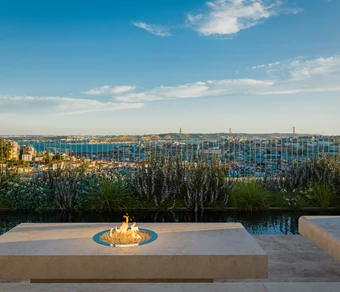 15 Exclusive apartments with outstanding views and balconies
Project Partners
ARX PORTUGAL |  Architect
SAFRE estudos e projetos de engenharia - PAULO FREIRE | Engineer
Viterbo Interior Design | Interior Design 
Grupo CASAIS | 1st Phase of the Project (Containment and foundations)
Completion: 2025
Exclusive Hilltop Amenities
Hilltop in the Heart of Lisbon with Luxury Amenities
Living in the centre can have all the comfort you expect. Terraços do Monte luxury apartments in Lisbon include two penthouses, an indoor and an outdoor pool, a gym, a spa, a garden and a concierge service available to you 24/7. In addition, you will never have to worry about finding a parking space - the building includes 57 spaces in a private parking.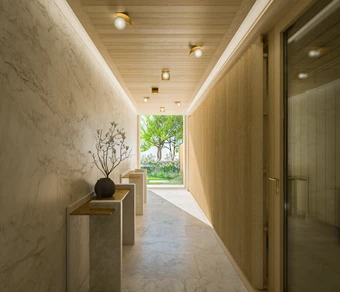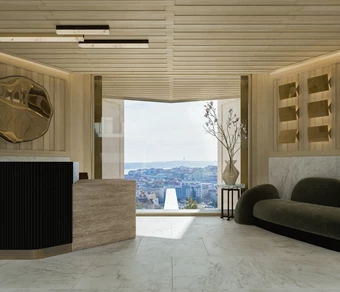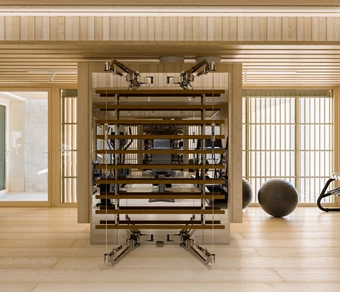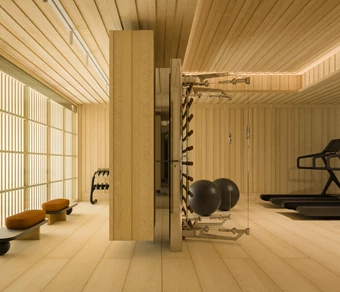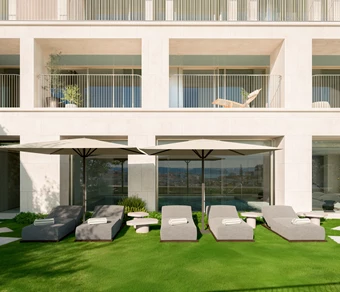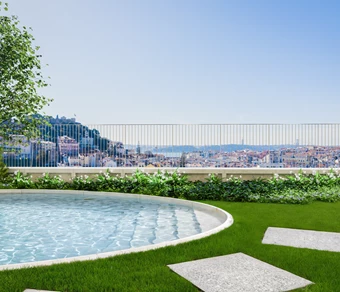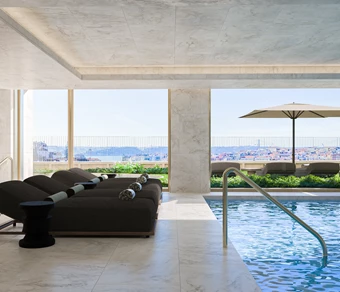 Swimming pools (indoor & outdoor)
24-hour Concièrge Services
Parking (57 parking spaces)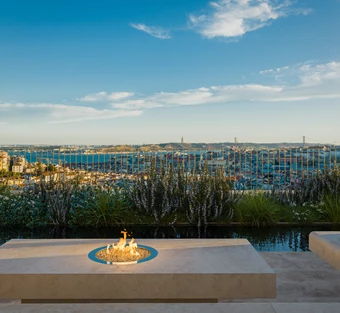 Luxury Development - Details
Terraços do Monte includes a indoor swimming pool - so you can enjoy this perk all year round. And you will find luxury in all its details: from the carefully selected materials, to the modern construction and avant-garde architecture, these apartments for sale are the gateway to a new urban lifestyle.
The closest airport (Lisbon) is just 30 minutes away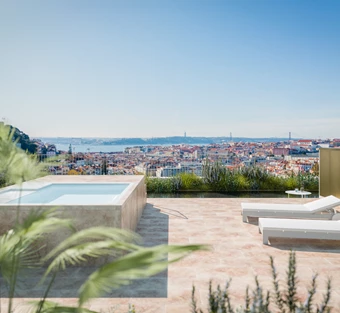 The view from the terrace: Graça
A vibrant area, full of liveliness, restaurants, shops, art, and hidden corners waiting to be discovered - this is Graça. At Terraços do Monte, you will have the privilege of living in an apartment with a pool and a terrace, in one of the most charming areas of Lisbon.
Lisbon, Full of Grace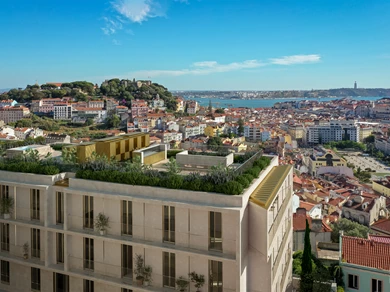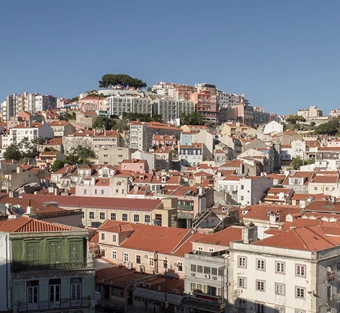 The Art of Living in the City of Seven Hills
Terraços do Monte is located on a hilltop in the heart of Lisbon's historic centre. These two elegant buildings reinterpret the Lisbon tradition of soft colours, stucco, stone and tile.
The residential building is located at the top end of Rua Damasceno Monteiro, immediately below the Nossa Senhora do Monte viewpoint, from which the most magnificent views of the city unfold, has everything to become an urban landmark.
Overlooking the city, in the historic neighbourhood of Graça, where tradition has it one can brethe the purest air in Lisbon. Located near Alfama, these river view apartments in Lisbon are the perfect choice for those looking to enjoy the best this city has to offer.
St. Jorge's Castle, flanked by the immense swathe of houses that make up Lisbon's down town 'baixa' which borders onto the river with the south bank of the Tagus beyond, makes up a majestic backdrop which makes this building a tribute to the art of living in the city of seven hills.
Developed in a contemporary architectural style by ARX Arquitectos, the Terraços do Monte emphasises the spacious verandas and windows that literally offer you, with each apartment, a private belvedere perched on the Santo André hill.
And while on the subject of beauty, this building and its artwork also follow Vanguard Property's hallmarks with a site-specific work created by a Portuguese artist. 
Inspired By Art, Designed for Living
Vanguard Properties is one of Portugal's largest real estate residential developers. It has a portfolio of 22 projects, with 1.027.781 sqm above ground, in Lisbon, Algarve, Oeiras and Comporta, and investments of 1.215 million euros.
Explore our Portfólio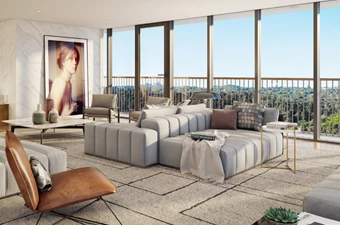 Inifnity
A Unique Project for Unique People
Discover
A'Tower
Feel the Vibrant Energy of Lisbon
Explore